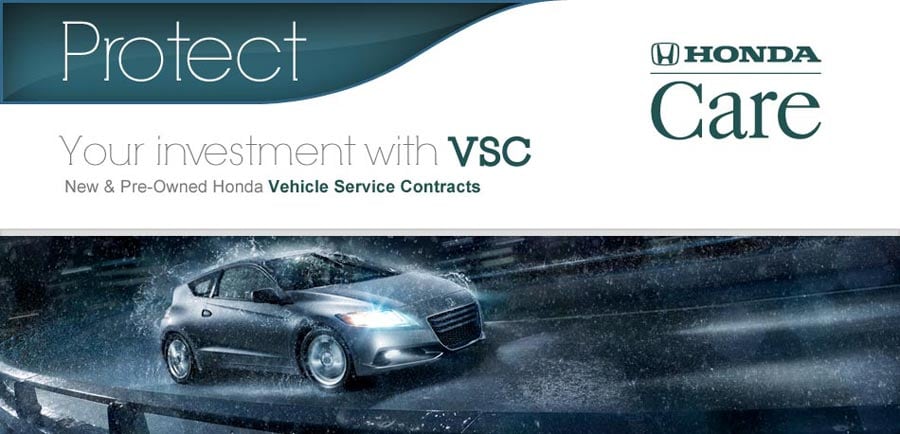 Want

Extra Protection

Down the Road?
Low-
or

No-Deductible Coverage

Plus the

Strength and Stability of Honda

Equals

Peace of Mind

.
Drive with the Comfort of

Knowing You're Covered

Protect your dreams with the many benefits Honda Care has to offer.
ROADSIDE ASSISTANCE

1

Should the need arise, we'll be there to help you on your way. With Honda Care,
you just "Sign & Drive."

2

24-hour roadside assistance
Towing

3

Lockout service
Battery jump-start
Tire change
Fuel delivery

4

CONCIERGE EMERGENCY SERVICE

1, 5

Urgent message relay
Emergency cash advance
Emergency airline tickets
24-hour weather information
Special emergency assistance
Insurance-claim assistance
Auto glass replacement referral
Shipment of personal replacement items

INTEREST FREE PAYMENT PLANS
Did you know that there are special Interest-Free Payment Plans available? Ask your Honda dealer for details.
NO HIGH-REPAIR-COST SURPRISES
By maintaining your Honda in accordance with its recommended maintenance schedule, Honda Care can cover potentially expensive repairs for virtually every component on your vehicle - even items like the timing belt, water pump and constant-velocity joints.
SERVICE YOU CAN DEPEND ON
All repairs will be made by factory-trained Honda technicians at authorized Honda dealerships

6

using Honda Genuine or American Honda-authorized parts.
COMPREHENSIVE COMPONENT COVERAGE

Drivetrain Engine, Transmission, Differential and Axles
Electronics Computers, Electronic Components and Electrical System
Chassis Suspension, Steering and Brake Systems
Heating/Cooling Air Conditioning, Heating and Cooling Systems
Honda Genuine Accessories Audio and Communication Devices and Accessories, Navigational and Security Systems
RENTAL-CAR REIMBURSEMENT
Honda Care will reimburse you up to $35 a day, for up to 6 days, should your Honda require any covered repairs.
TRIP-INTERRUPTION BENEFIT

1

If your Honda needs repair when you are more than 100 miles from home, Honda Care will provide up to $100 a day, for up to 3 days, for meals and lodging.

1, 2

PERSONALIZED TRAVEL PLAN

2

Spend more time sightseeing and less time map reading with these services, offered at no additional charge:

Custom computerized maps
Directions for the fastest or most scenic routes
Estimated driving time with distances between stops
Locations of Honda dealers along the way, should you need parts or service

TRANSFER CONDITIONS
Honda Care coverage is transferrable.
COMMERCIAL COVERAGE
Commercial-use coverage is available for your new Honda vehicle. Ask your dealer for details.
Cross Country Motor Club is responsible for the listed benefits except in Florida. This document is intended to provide an overview of these benefits. Actual terms may vary. See your contract or membership kit for complete details.
Up to $100 per occurrence. Does not include parts.
Towing is available when the vehicle is unable to proceed safely (due to a mechanical failure, accident, etc.).
Excludes natural-gas vehicles.
Concierge service is not available in Florida.
If no Honda dealership is available within towing distance, repairs will be made at a Honda Care-authorized service center.
Exclusions include, but are not limited to, body parts, tires, maintenance items, glass, upholstery, trim, carpeting and ornamentation.
Administered by: American Honda Finance CorporationProvided by: American Honda Protection Products CorporationProvided in Florida by: American Honda Service Contract Corporation P.O. Box 2225, Torrance, CA 90509-2225, License #60083
©2010 Honda Financial Services is a DBA of American Honda Finance Corporation and both are service marks of Honda Motor Co., Ltd. Honda, the H-mark symbol, and Honda vehicles are trademarks of Honda Motor Co., Ltd.THIS IS AN ADVERTISEMENT FOR A MOTOR VEHICLE SERVICE CONTRACT. EXCEPT IN FLORIDA, THE SENDER OF THIS ADVERTISEMENT IS AMERICAN HONDA PROTECTION PRODUCTS CORPORATION.  HBROC2/10